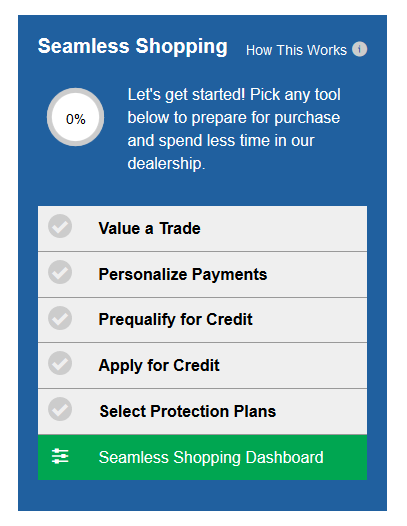 Shop for a New Subaru Model from your Sofa
Would it be less stressful to shop for a new SUV or sedan if you could complete much of the process from the comfort of home? With the Subaru Seamless Shopping Program here at Bird Road Subaru, this is very much the convenient reality you get to enjoy. Shave off over two hours of the time you would spend inside our showroom completing paperwork with online forms and application that cover financing, your trade-in value and even vehicle delivery.
Pre-Qualification, Credit Application and Choosing your Protection Plans
Our pre-qualification form is available for shoppers that aren't quite sure where your credit score currently stands. This can provide you with proper context for what vehicles you may qualify for and what your budget will look like. If you feel good about your credit standing, move on directly to our online financing form. This is the first step in applying for an auto loan, and this form takes a brief allotment of time to submit. With these details processed, our team can save you some time in your busy day when you do stop by the dealership. Protection plans are also available and accessible online for you to review and select.
Trade-In Value: Instant Estimates
Used to waiting for an initial trade-in value in person? Our team can get you an estimate instantly with our online Subaru Seamless Shopping tool. A brief form with some questions about items such as your vehicle's mileage and history provides a number to work from, as this step can be completed whenever you do get a free moment in your day.
Choose to Have your Subaru Model Delivered
Don't have time to make a longer commute to come pick up your vehicle when all the paperwork is processed and the steps are completed? We can plan to have your new Subaru model delivered directly to you! This is of course based off where you are located, but this convenient option can save you from an unnecessary trip to our location for more flexibility in your schedule.
Have questions about Subaru Seamless Shopping and the online resources that we carry? We would love to hear from you today, as we are happy to provide the answers you are looking for.